Foodie Shopping
Forest of Dean, Wye Valley (West Gloucestershire) is a primary producer of top quality food and drink. Everything from cider, wine, artisan beer and cheeses, Gloucester Old Spot Bacon and smoked Severn Salmon, to organic juices and vegtaables, free range chickens and eggs. It is distributed locally and nationally and awaits every visitor. Many of our food producers have onsite shops, and produce can be found at regular Farmers' Markets and other outlets throughout the area. 
The Abergavenny Food Festival is held annually on the third weekend in September and the Forest Food Showcase is held annually at Speech House on the first Sunday in October. The flavours of Herefordshire Food Festival takes place on the fourth weekend in October in the heart of Hereford. With many food stalls and demonstrations, they are great opportunities to try what the area has to offer.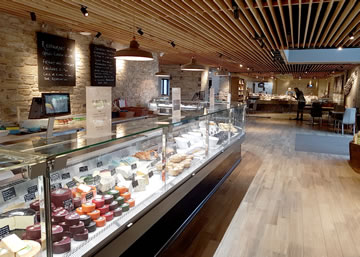 Severn & Wye Smokery, Chaxhill - This Foodstore situated within the heart of the smokery gives us the opportunity to showcase not only our own product but some of our local producers as well.
As you enter the foodstore, one of the first things you'll notice will be our colourful fresh fish counter, displayed on ice, drawing you into our sunny delicatessen and restaurant.
As you'd expect from one of the UK's top fishmongers, the fresh fish counter has a magnificent array of fresh fish and fresh shellfish serviced by old man river himself Clive Rowlands.
With his 45 years of experience of working with fish, Clive will be delighted to fillet, scale or prepare your chosen fish to your request.
As well as their own smoked salmon, smoked fish, fresh fish and seafood they are particularly proud of their extensive range of delectable local foods, sourced from Gloucestershire and the South West. This foodstore is well worth a visit, it's guaranteed not to disappoint.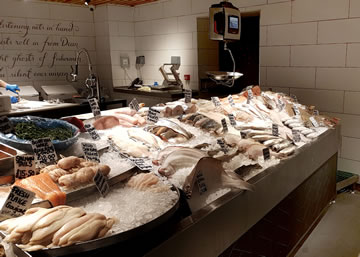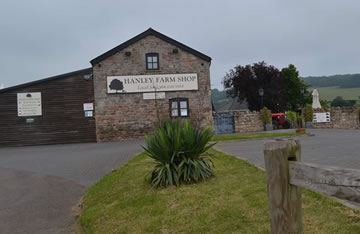 Hanley Farm Shop, Tidenham - This shop has a huge wide range of local produce ranging from Berries to Beers. They source most of their produce within a 30 mile radius of their shop which means that the food is as fresh as possible, and also supports local traders and growers. All their pies, quiches, sausage rolls, cakes and ready meals are made in our kitchen by their Chef, Michael Johns, and his team. They have a fully stocked in-house butchery with a fantastic range of poultry and free range and local meat from their own and surrounding farms. Their friendly butchers are always on hand to offer expert help and advice. The range of cheese is from award winning artisan small scale cheese makers and range from Bries to Stilton, they need to be seen and tried to be believed. In addition the large range of cows milk cheeses they stock sheep and goat cheeses which are suitable for those with a cows milk allergy. The decline of the High Street and demise of the local trader can be attributed solely to the large supermarkets, therefore they strongly believe in keeping things local, not just for keeping things fresh but also because of the incredible range of produce which is hiding just around the corner waiting to be discovered. There is an excellent vegetarian range which include burgers, dried lentils, rices, pulses and a selection of ready meals. As well as a wide range of 'Essential' Organic products such as coconut oil, milk, falafel, quinoa and many more! Since opening they have received numerous awards for their food, including 4 Great Taste Awards.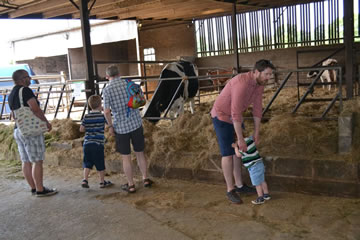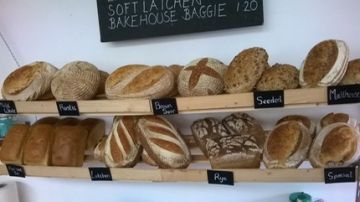 The Forest Bakehouse - Traditional fermentation not only makes sure that our bread tastes different through unlocking more complex flavours, but is also essential for better digestibility.
There are a number of nutrient inhibitors and natural enzymes present in flour.
These need deactivating so that nutrients and minerals are available for absortion and digestion.
And the only reliable way of doing this is through fermentation and the addition of sourdoughs, making bread the way it used to be made.
Brockweir & Hewelsfield Village Shop - With its stunning views down the valley and local artwork on the walls it is hard to imagine a more appealing place to sit and take a break or pick up some groceries..
The smell of the freshly ground organic fair-trade coffee tempts you to linger, whilst the range of locally made food at competitive prices makes The Café a great place to lunch with friends.
The Café has proved to be one of the most popular aspects of the Village Shop. It has become a lively meeting place for locals, and a haven for walkers – ideally situated as it is on Offa's Dyke – and for cyclists and tourists.
Try their locally made cakes, scones and flapjacks, or if you need something more substantial, a freshly made filled roll or the freshly made soup of the day.  There is always locally made ice cream available.
They have a license to serve alcohol with meals which gives you the opportunity to try some local beer or cider
There is free WiFi access for your laptop.
As well as Fresh Local Produce and General Groceries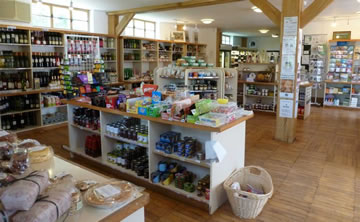 Hear From Our Previous Guests...
Excellent quality accommodation, with everything you could possibly want to ensure a restful stay, located conveniently for travelling to other destinations, no shortage of pubs / restaurants. Recommend highly.
Peter & Melissa, York
Lovely property a real home from home, clean, comfortable, glamorous well thought out décor and touches to make the stay as comfortable and enjoyable as possible.
Sarah, Martin and family, Cambridge
Barn was v.comfortable and well equipped and warm. Beds v.good, powerful shower and toiletry items plentiful. Very peaceful and ideal for relaxing. Strongly recommend.
Steve and Davina, Peterborough