Tea Rooms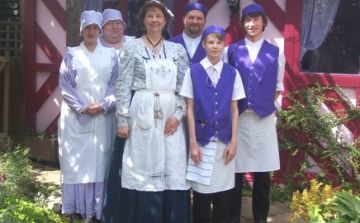 Aunt Martha's Victorian Tea Rooms
Looking for an experience to remember? Then step back in time and enjoy refreshments at Aunt Martha's Victorian Tea-rooms and gardens.
Meet Aunt Martha and her staff, all dressed in period Victorian clothes, and waiting to give you a warm welcome. Enjoy what was once standard - pretty table clothes - nice china - proper serviettes - loose tea - sugar cubes and of course, tasty homemade food served in style. Food allergies like gluten and dairy intolerances are catered for.
WINNER of the Cotswold Life magazine 2014 award for the best Local Tea Room and Finalist in the 2014 Taste of Gloucestershire Awards for the Best Independent Tea-rooms.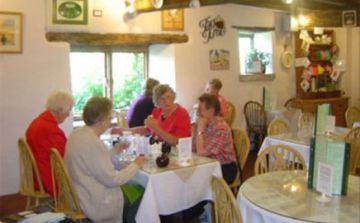 The Old Dairy Tea Room, Harts Barn, Longhope
The premier venue in the Forest for enjoying traditional afternoon and cream teas with an ever-changing lunch specials board featuring fresh, local produce. 
Housed in a cosy, traditional tearoom setting, you'll find beautiful bone china, a friendly relaxed service and good old fashioned recipes. The Old Dairy serves everything from breakfasts & light snacks, to home cooked lunches, including Sunday roasts (booking advisable for Sunday lunch). 
Gluten-free bread, cakes & gravy, soya alternatives to dairy - including a heavenly homemade dairy-free chocolate cake! - always available.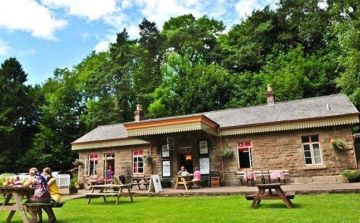 Old Station Tea Room, Nr Tintern
Situated in the original railway waiting room you can enjoy a range of freshly prepared meals and delicious home baked cakes (including lavender cake), traditional bread pudding and strawberry cream teas as featured in the AA afternoon tea guide). 
Indulge in a fireman's shovel grilled breakfast. For lunch a variety of freshly prepared sandwiches and panini's, as well as our famous Tintern cheese platter. Homemade soup and bacon rolls are available all day. 
We serve only rainforest alliance coffee, freshly ground and available as cappuccino, latte, americano or espresso. For tea lovers we stock fair trade tea and at least 11 other infusions.
Hear From Our Previous Guests...
Excellent quality accommodation, with everything you could possibly want to ensure a restful stay, located conveniently for travelling to other destinations, no shortage of pubs / restaurants. Recommend highly.
Peter & Melissa, York
Lovely property a real home from home, clean, comfortable, glamorous well thought out décor and touches to make the stay as comfortable and enjoyable as possible.
Sarah, Martin and family, Cambridge
Barn was v.comfortable and well equipped and warm. Beds v.good, powerful shower and toiletry items plentiful. Very peaceful and ideal for relaxing. Strongly recommend.
Steve and Davina, Peterborough