Pubs & Restaurants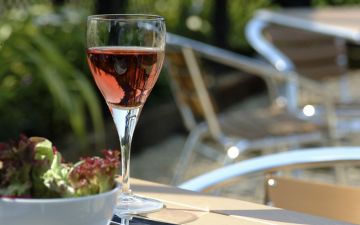 No need to leave our little hamlet. 'Angela is busy with our Home Cooked Menu'.  In your fridge ready for your arrival!  Order, during reserving your accommodation process, or download Menu from the Downloads section.  We can offer this service during your stay too: there will be an order form in your property.
Angela's Menu includes:    Starters: Vegetable or Chicken soup with crusty Bread. Caramelised Shallot & Goats Cheese in a Walnut Pastry Tart.  Mains: Vegetable or Beef Lasagna, Fish Pie, Beef Casserole.  Deserts: Treacle & Walnut Tart, Apple Crumble, Dark Chocolate brownies.
If you are vegetarian, vegan or gluten intolerant please let us know in advance. Thank you
However, we've also taken the trouble of creating a 'tried and tested map' which shows you were all the best places to eat are.
Tried and Tested Restaurant Map - Download
---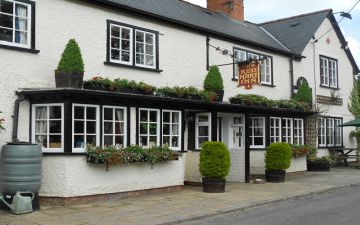 The Red Hart Inn Blaisdon - within 15 mins of Forest Barns. A family run traditional free-house, they have oak beams, log fires and flagstone floors. They are in the good beer guide and the good pub guide and have the Camra Locale acreditation for supplying local real ales.
Good home-cooked food such as roast pork from their our own pigs, also lighter bites, childrens meals and traditional fayre such as steak & ale pie with suet pastry. There is a large beer garden and play area & are dog & child friendly.
---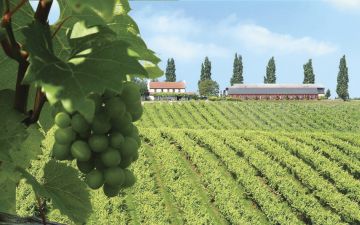 Three Choirs Vineyard & Restaurant - The restaurant is set on a ridge overlooking the 75 acre vineyard. All dishes are prepared from fresh ingredients and where possible local produce is used.
Visitors are welcome to viist the shop and taste our wines prior to their meal. Service is relaxed to enable you to enjoy the beautiful setting.
---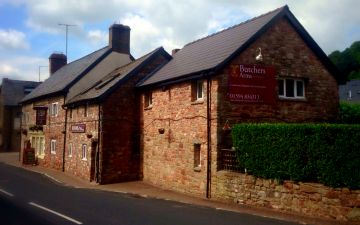 The Butchers Arms, Clearwellis one of the oldest pubs in the Forest of Dean.
They have been welcoming locals and visitors alike since 1802 and pride ourselves in providing excellent service and good quality food. 
---
The Ostrich Inn - NewlandProper 13th century country pub opposite the Cathedral of the Forest. 8 Real Ales. Great food.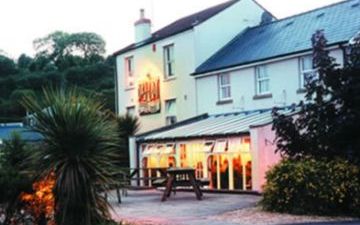 Belfry, Littledean - within 5 mins of Forest Barn Holidays a varied menu to suit all tastes. Dishes include Chicken Supreme, Belfry Chicken, Ploughman's lunch and Salads, or traditional pub meals which include Scampi, Pie of the Day and Lasagne. They cater for all dietary needs which includes vegetarians, vegans or gluten-free.
---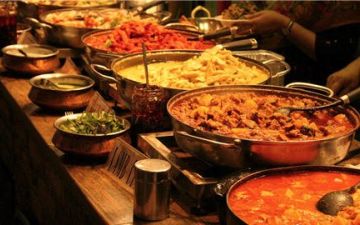 River Spice Indian Restaurant is located within The Forge Hammer pub, Lower Lydbrook and set in the Wye Valley, an area of outstanding natural beauty.
To compliment our fantastic new menu we are also able to offer a range of cask conditioned ales, draught lagers and ciders, wines, spirits and soft drinks.
Offering a new and exciting taste of the Indian Sub-Continent, River Spice staff offer diners a completely new gastronomic experience, a wonderful place to take or meet your friends and family.
---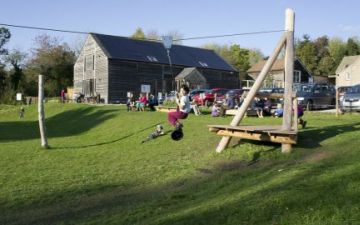 Brockweir and Hewelsfield Village Shop and Café
The Café has proved to be one of the most popular aspects of the Village Shop. It has become a lively meeting place for locals, and a haven for walkers - ideally situated as it is on Offa's Dyke - and for cyclists and tourists. 
You can sit inside and look at the artwork on the walls, pick up a book from the free book loan shelves or just chat while you eat and drink. 
Fair Trade organic coffee is always available, and you can choose from latte, esspresso or Americano, or choose from a range of traditional and herbal teas. 
For food, try locally made cakes, scones and flapjacks, or if you need something more substantial, a freshly made filled roll or the hot meal of the day. 
There is always locally made ice cream available. 
We also have a license to serve alcohol with meals which gives you the opportunity to try some local beer or cider. 
Child Friendly with a zip wire and swings and pet friendly too.
---
Glass House on slopes of May Hill - pub within 25 mins The Glasshouse Inn is a charming red bricked pub in a picturesque spot on the slopes of May Hill surrounded by beautiful countryside.
The Inn has been trading as a public house since 1891 and its strength lies firmly in its simplistic, unspoilt, almost timeless tradition. We have an excellent reputation for fine food and ales in a traditional pub atmosphere surrounded by beautiful countryside.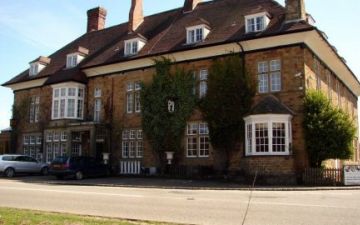 The Speech House - within 10 mins of Forest Barns. The Gloucestershire based Speech House offers all levels of dining experience from good Pub Food in the conservatory to fine dining in the restaurant. 
The bar provides a perfect place to relax, unwind and enjoy some traditional pub food, after travelling or sightseeing. If you are looking for a more formal dining environment, the beamed Verderer's Court restaurant reflects the room's continuing use as a courthouse for the Foresters of Dean, while the more intimate Freeminers Restaurant maintains links with one of the unique Forest traditions of Gloucestershire. Child and pet friendly.
---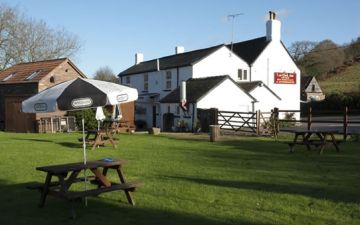 The Cock Inn, Blakeney - within 10 mins of Forest Barns. A 16th Century coaching inn situated in Blakeney. A distinctive and much loved part of the local community that extends a warm welcome to locals and visitors alike. Great, food, drink and warm hospitality in a lovely area with a large beer garden to enjoy the scenery in the summer months and a warming log fire to make things cosy on colder days.
---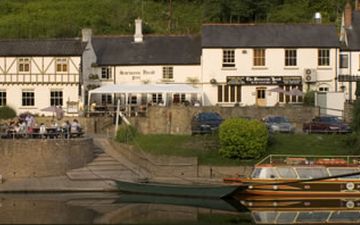 The Saracens Head Inn - Symonds Yat. Occupies a unique position on the East bank of the River Wye where it flows into a steep gorge on the edge of the Forest of Dean.
The Inn has a reputation for high quality food, using fresh local ingredients where possible, with a regularly changing menu and daily specials. Symonds Yat East is an AONB and nestles below Symonds Yat Rock with many scenic walks to be enjoyed. The Inn has an ancient hand ferry which is part of the circular walk to Biblins pedestrian suspension bridge.
---
Hear From Our Previous Guests...
Excellent quality accommodation, with everything you could possibly want to ensure a restful stay, located conveniently for travelling to other destinations, no shortage of pubs / restaurants. Recommend highly.
Peter & Melissa, York
Lovely property a real home from home, clean, comfortable, glamorous well thought out décor and touches to make the stay as comfortable and enjoyable as possible.
Sarah, Martin and family, Cambridge
Barn was v.comfortable and well equipped and warm. Beds v.good, powerful shower and toiletry items plentiful. Very peaceful and ideal for relaxing. Strongly recommend.
Steve and Davina, Peterborough