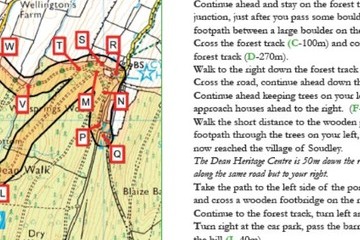 Maps to assist you on your adventures.  Great fun for all ages and bring the dog too!  Download our unique walking guides to get into your stride.
Study these before your arrival and be ready for the off!  The one detailed below is about 4 miles so allow 2-3 hours, however, the route can be shortened at certain points.  The plan, which is way-marked, contains points of interest and notes en route.  The route would be excellent for a run on a lovely morning or a stroll and most of it is pushchair friendly.
Distance: 6.4 Km (4 miles) - allow 2 - 3 hours.
The walk uses woodland paths, forest tracks, quiet country roads and bridleways.
Shorter Route options: The route can easily be shortened at points (E) after
2.1Km and (J) or (L) after 3.5Km. In each case take the road back to Sutton
Baynham Farm -turning left at (E) or right at (J) or (L).
Difficulty and hazards: The walk has two 600m long gentle ascents up forest
tracks. Some surfaces will be uneven and may be muddy in places in wet weather.
There are 2 stiles and 2 fields to cross on this walk - but these can easily be avoided
by using the road. Please be alert for the occasional vehicle that uses the roads.
Equipment: Boots or strong shoes are reccommended. Nettles, brambles and
thistles may be encountered, a stick can be useful to control them. The ponds are
NOT suitable for swimming.