Falconry Experience
Forest Barn Falconry has expert falconers providing an exhiliarating opportunity to handle and fly Birds of Prey who live with us here in our little hamlet  of cottages.  The falconry experience teaches the basic skills and techniques of this ancient and highly skilled sport.  Equipped with falconer's glove – provided by the academy – you will be guided through the essential techniques of working with, flying and feeding these magnificent birds.  This is a wonderful experience with a maximum number of four, alternatively book an exclusive family experience.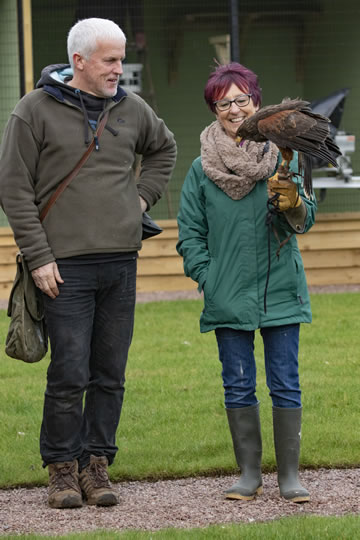 Vouchers - The Ideal Gift!
If you are looking for that unusual gift, why not consider a voucher for one of our handling, half day flying experience or courses?
Decide what event you are interested in and then click here to purchase your falconry voucher.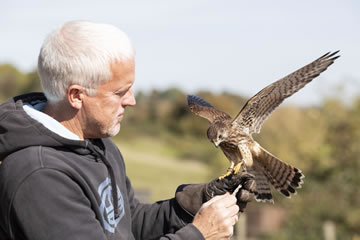 Experiences
Handle & Feeding Birds of Prey
This bird of prey handling experience is a session which allows you to get up close and personal with our birds on your gloved fist.  Whilst you won't fly the birds, you will, with the guidance of our experienced falconer, Mark, handle, feed and get to know more about these wonderful birds.
Adult - £30
Child - £20 (children must be accompanied by a full fee paying adult)
Family - £90 (2 adults and 2 children)
Afternoons: at 2.30 and 4.00 and Fridays only at 6.30.  Allow around one hour for this experience.
Half Day Handle and Fly Birds of Prey Experience
This Half Day Falconry Experience enables you to be at close range with our amazing birds of prey.  Under the strict guidance of our experienced falconer, you will handle and fly the birds free – all whilst learning more about each of the individual birds.  A great gift for anyone. 
Adult - £90
Child - £70 (children must be accompanied by a full fee paying adult)
Family - £294.40 (2 adults and 2 children)
Mornings at 10.00am.  Allow around three hours for this experience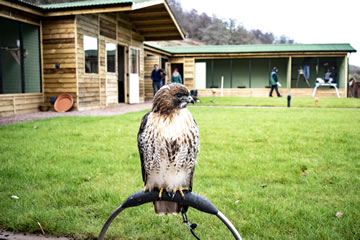 Other  Experience Information
Height restriction – 1.2mtr (4ft)
Age 8 -16 years must be accompanied by a full paying adult (one adult per child)
Birds usually used in this half day are: Kestrel, Barn Owl and Harris Hawk (subject to change).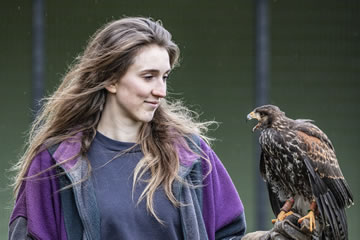 Hear From Our Previous Guests...
Excellent quality accommodation, with everything you could possibly want to ensure a restful stay, located conveniently for travelling to other destinations, no shortage of pubs / restaurants. Recommend highly.
Peter & Melissa, York
Lovely property a real home from home, clean, comfortable, glamorous well thought out décor and touches to make the stay as comfortable and enjoyable as possible.
Sarah, Martin and family, Cambridge
Barn was v.comfortable and well equipped and warm. Beds v.good, powerful shower and toiletry items plentiful. Very peaceful and ideal for relaxing. Strongly recommend.
Steve and Davina, Peterborough